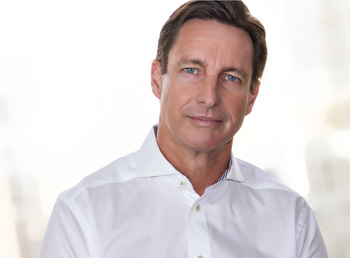 Tom Gildred is a multi-generation San Diegan, visionary entrepreneur and generous philanthropist. Recently selected as the Ernst & Young Entrepreneur of the Year, he has gained recognition both nationally and locally for founding and growing two businesses: FMT Consultants and Emerald Textiles. But at his core, Tom is a humanitarian with a passion for making a difference. Whether it's through involvement with his alma mater, his local community or a non-profit, he wants to help San Diego become an even better place.
Bringing Business to San Diego
Tom is the founder and chairman of FMT Consultants, which was recently ranked the No. 7 "software as a service" (SaaS) company by the San Diego Business Journal. He is also the founder and CEO of Emerald Textiles, the leading choice of large healthcare networks throughout Southern California for their linen and laundry service needs. Emerald Textiles has been recognized nationally for its technologically advanced plant, environmentally friendly practices and focus on cleanliness.
In addition to these business ventures, Tom is on the Board of Directors for the Gildred Companies, which holds a portfolio of business and industrial parks throughout Southern California. And, he is a founding member of Vistage Group 3080, a group of CEOs across industries such as commercial real estate, advertising, healthcare, finance and more.
Creating Jobs throughout Southern California
The growth of Tom's businesses has led to the creation of jobs for many San Diegans and their families. Nearly 500 people are employed by companies he owns and is invested in, including Emerald Textiles, FMT Consultants and the Gildred Companies. Positions at Tom's companies are held by employees who — just like their leader — are passionate and invested in the work they do. FMT Consultants has been voted one of San Diego's "Best Places to Work" two years in a row and Microsoft Partner of the year. Tom himself has been named "Most Admired CEO" by the San Diego Business Journal.
Conserving Environmental Resources
A native San Diegan, Tom is focused on environmental responsibility and preserving precious natural resources like water and energy. When he started Emerald Textiles, he had a vision of creating a healthcare laundry that was environmentally conscious while providing higher cleanliness standards and better service. By using the most high-tech, water-efficient equipment available, the Emerald laundry facility saves an estimated 120 million gallons of water and over 750,000 therms of natural gas annually.
Supporting the Next Generation of Entrepreneurs
An alumnus of San Diego State University, Tom remembers his roots. He is a member of the SDSU College of Business Administration Board of Directors and is closely involved with mentoring students, collaborating on research initiatives with faculty, building a relevant curriculum and offering financial support.
Engaging with the Community
Tom has a long track record of serving local companies and non-profits. Highlights include:
Chairman of the American Heart Association's 2016 Heart and Stroke Walk
Treasurer for the Plaza de Panama Board of Directors
Board member of Computers 2 San Diego Kids
Former past president of the San Diego Museum of Art and member of numerous committees
Former member of the Board of Directors for the Mission Valley YMCA
Founding member of the Downtown Breakfast Rotary Club
Former Board of Directors for Sharp Healthcare
To learn more about Tom Gildred, please contact the public relations department at Emerald Textiles by calling (619) 330-7077 or via email at info@EmeraldUS.com.